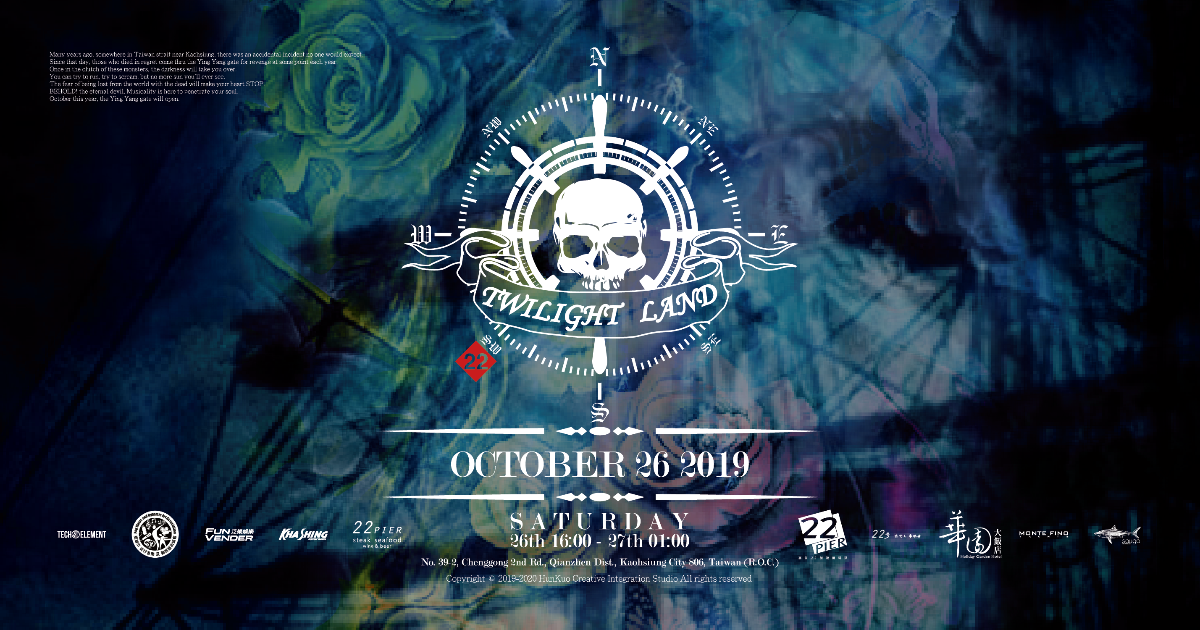 傳說在每年的某個時間
惡靈們將穿越陰陽之門前來復仇
黑暗將吞噬你的靈魂
睜大眼睛看呀!
載滿鬼魂的遊艇
永不死的魔鬼節奏
貫穿你的靈魂深處
今年10月
陰陽之地閘門即將開啟..
Many years ago, somewhere in Taiwan Strait near Kaohsiung, there was an accidental incident no one would expect.
Since that day,
those who died in regret come thru the Ying Yang gate
for revenge at some point each year.
Once in the clutch of these monsters,
the darkness will take you over.
You try to run, try to scream, but no more sun you'll ever see.
The fear of being lost from the world with the dead will make your heart STOP.

BEHOLD! the eternal devil
Musicality is here to penetrate your soul.
October this year, the Ying Yang gate will open..
活動日期:2019/10/26 (六)
活動時間:16:00-01:00
活動地點:高雄嘉信22號遊艇碼頭
活動地址:高雄市前鎮區成功二路39-2號
(高雄軟體園區裡面盡頭處下車,步行碼頭沿岸進行會場)
主辦單位:鐵克艾樂 / 泛樂娛樂 / 高雄嘉信22號遊艇碼頭
FB 粉絲頁: https://www.facebook.com/twilightland22/
Event Date: Saturday, Oct 26, 2019
Event Time:16:00-01:00
Location: Kaohsiung Kha Shing Pier 22 Marina
Address: No.39-2, Chenggong 2nd Rd.Qianzhen Dist., Kaohsiung City, Taiwan
(If you come by taxi, Pier 22 is at the very inside area of Kaohsiung Software Technology park, so just walk along the pier, and you should see the Venue.)
The Organizer: Tech Element/ funvender/ Kha Shing Pier 22 Marina
Fb page: http://www.facebook.com/twilightland22
English is below.